Bran Muffins




Muffins worth sharing
Think about the things we share in this life: love, laughter, heartache, success, friendship, and recipes. Seems funny, but it is true. If people love what you bake or create in the kitchen, don't they request the recipe? And we love to share good food. Don't you wonder how many kitchens have one of your recipes stuck in a book on a shelf or even on a computer? I know some of mine are in South Carolina, Florida, Pennsylvania, and Indiana.
This refrigerator bran muffin recipe is a gold gem. I found it in the 1972 Pennsylvania State Grange cookbook. The cover is long gone and the pages are tattered and quite yellow. Pink and purple post-it notes peek out the sides like tabs on grandpa's Bible. The red plastic comb binding lost all holding power. Like prisoners during a jail break, the inmates on pages 400 - 525 keep trying to escape!
Here is the recipe you have been waiting for!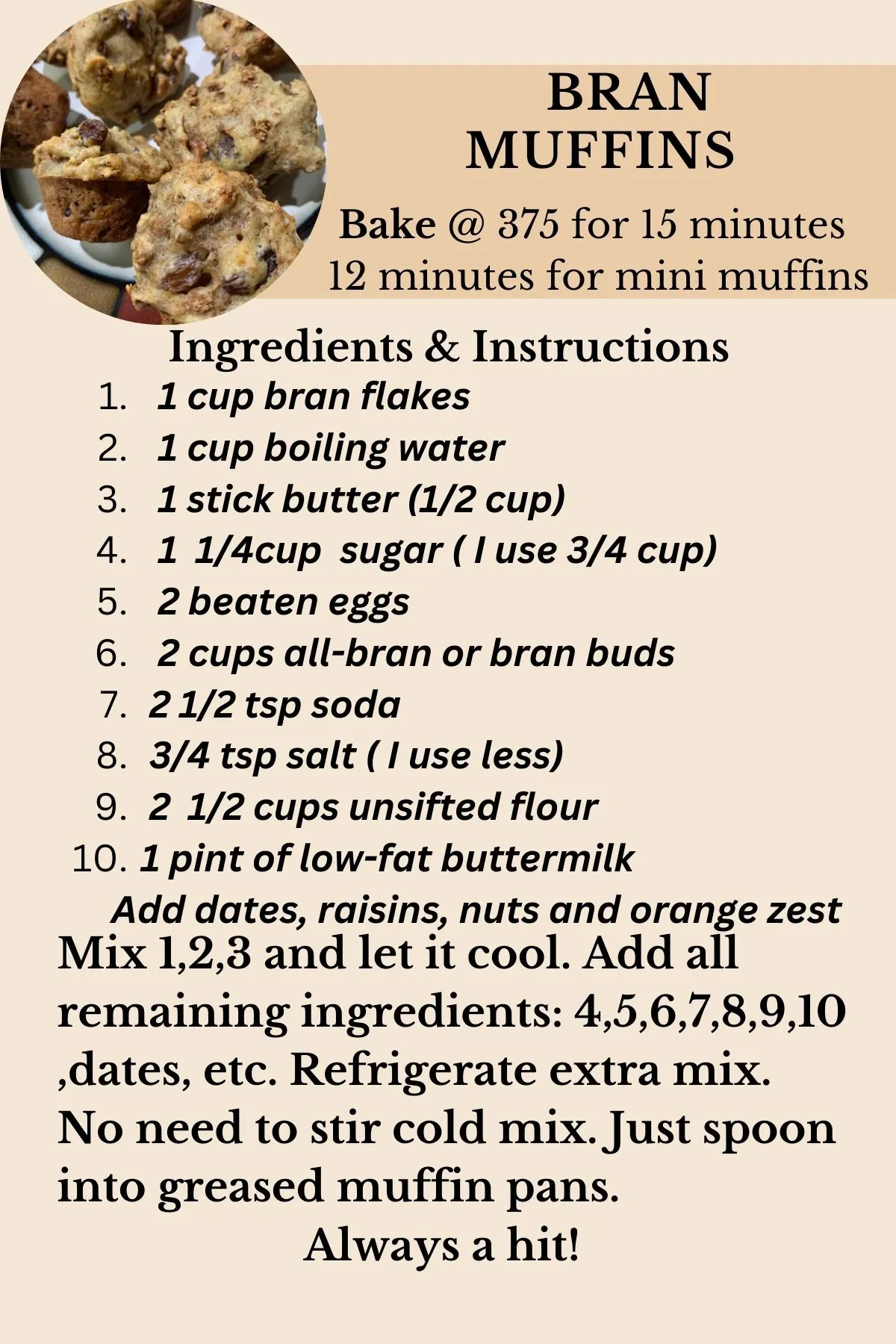 These make such a great morning breakfast if company surprises you or spends the night over the holidays. You can make them fresh muffins. Serve them with my fresh frozen fruit salad and create a delectable duo! They also make great gifts. I often give the muffin mix to my friends to bake their own! A totally different gift idea, but always appreciated.
Now let me provide a tad of medical information and I promise not to be too indelicate. Allen's mom loved these muffins. When she was in the nursing home, pain medications reeked havoc on her 96 year old body, slowing certain processes. But the muffins, full of fiber, were a miracle to Florence. She renamed them, "magical" muffins. A great gift of love for anyone post surgical procedures or while taking pain medications! A gift sure to provide positive outcomes!